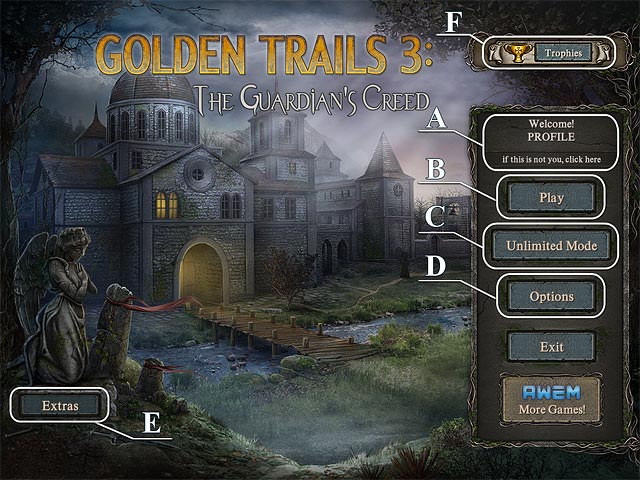 • When you first start the game, enter a name for your profile. You can have up to eight characters (letters or numbers) in your profile name.
• To manage your profile, click the Welcome button (A). To change, add, or delete profiles, go to the "If this is not you, click here" link. You can create up to five profiles.
• To start the game, click on the 'Play' button (B). For games in progress, you'll pick up where you left last time.
• In Unlimited Mode (C), you can choose any unlocked location in Adventure mode to replay it. You unlock Unlimited mode after you've scored 25,000 points in Adventure mode.
• Go to 'Options' (D) anytime to change the following settings: music volume, sound volume, full screen, and custom cursor.
• Click Extras (E) to access it. (You unlock Extras after completing the main game). Here you can access the Bonus Episode, Strategy Guide, Behind the Scenes, Soundtracks, Wallpapers, Puzzle Mode, and Shooting Gallery. Note: the Strategy Guide is available from within the game, The button is in the upper left of the screen.
• You can check out your trophy collection in the Trophy Room (F).