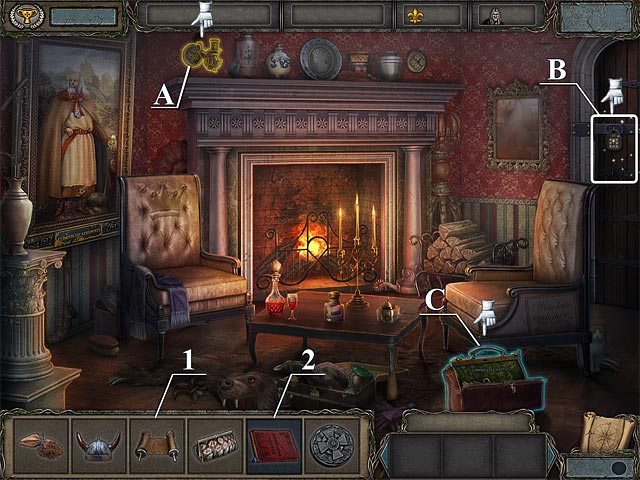 • The objects in the game are randomized and may be different in your play through.
• Items with a grey background are regular items (1).
• Items with a blue background require a tool (2). They may hide inside or behind other items. Click them to move the item or choose the right tool in Inventory Tools to uncover the hidden item.
• Items with a blue background can be Inventory Tools, important clues or items for the mini-game at the end of an episode.
• Items highlighted in yellow are interactive (A). Click on them.
• Items highlighted in blue need a tool form Inventory (B).
• Sparkling Items (C) are puzzles. If it's highlighted in blue, use one of the items from your inventory to play. If it's highlighted in yellow, click it.
• Quickly clicking on wrong items more than seven times in a row disables the cursor for about three seconds. It'll also prevent you from getting the trophy for completing the game without penalties.
• Hints (A): You start the game with three hints. If you run out, the hint bar recharges. You can also earn hints by shooting bandits who pop up in scenes throughout the game.
• Fleurs-de-lis (C): Every location – beginning with the Front Door by the Mansion – has two to four fleurs-de-lis. Collect 50, 100, and 150 fleurs-the-lis to unlock Bronze, Silver, and Gold Rooms respectively in Unlimited mode.
• Find as many fleurs-de-lis as you can. If you don't find enough, you won't be able to play the bonus levels.
• You can't return to a finished location, so find fleurs-de-lis before you complete the location.
• Don't skip the shooting range game at the end of the episodes. It's the best way to get more fleurs-de-lis and points.
• Mystery Items (D): Some locations contain mystery items. When you point your cursor over them, they twinkle. Click them to get extra points.
• When you have more than three items in Inventory, use the buttons on the sides of the Inventory to scroll left and right (E).