Play match-3 levels to collect resources that are important for building the city.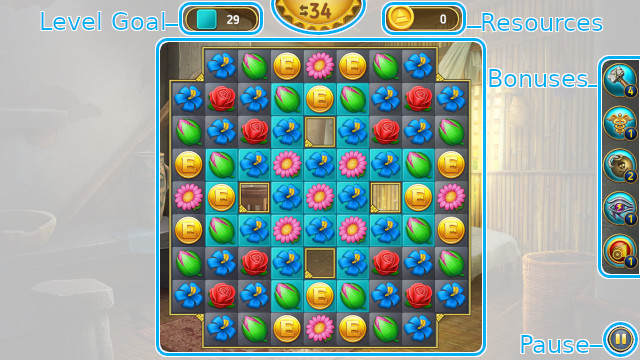 Level Goal – You need to complete one or more goals to beat match-3 levels.
Resources – Shows the resources you get on the match-3 level.
Mode – Before the match-3 level begins, you get a notification of the mode you are going to play. Some modes are timed and some have a certain amount of moves. Here you can see the number of moves or time left on the match-3 level.
Pause – Tap the button to pause the game.
Bonuses – Shows all your bonuses and how many units of each bonus you have. If you run out of bonuses, you can tap the bonus to buy it using your crystals. You can also get deals on bonuses in the totems and buy them with your earned resources.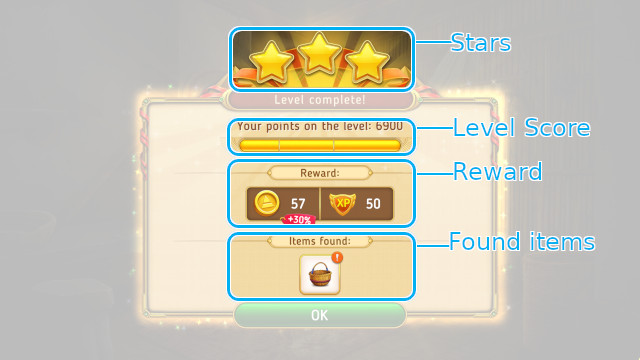 Stars – Shows the stars that you earned for the match-3 level.
Level Score – Shows how many points you scored for a match-3 level.
Level Reward – Shows your earned resources and XP points.
Found Items – Shows the items that you collected on the match-3 level. Sometimes you can get energy points, chargers on completing the match-3 levels. You may need to play one and the same match-3 level several times before you find the collection item. Some of them are more often than others, and some items are considered rare.

Replay - press this button to try again.This button appears if you open a quest, use 'Do it!' button and play level on which image of the quest item is shown.