Buildings are very important for your progress. They contain match-3 levels and each of them brings you one of the three types of resources: food, gold, or supplies. You get resources by playing match-3 puzzles in the buildings or collecting taxes from them.
To build a new building, you need to clear the ruins first and then tap the building icon to construct a new building. You need to have enough resources to clear the ruins and build the buildings. Clearing and construction take time but you can speed it up using your crystals.
After the building is ready you can enter it to play match-3 levels.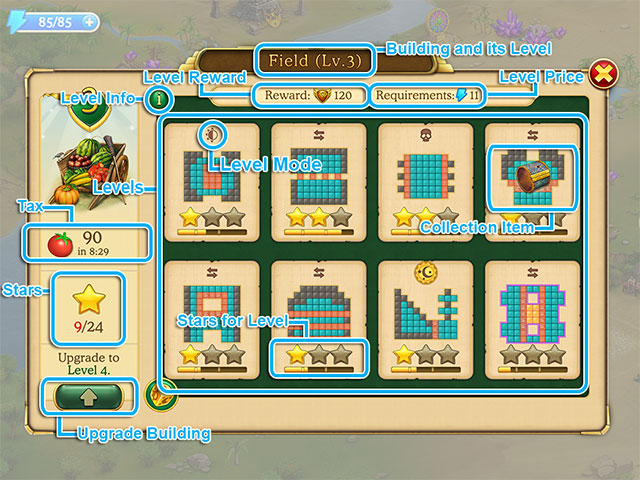 Building and its Level – Here you can see what building you are in and its level.
Tax – Shows what type of resources the building brings to you. It shows the amount of the tax that you will collect in certain time (as the timer counts down).
Stars – Shows how many stars you have and how many stars you should have to be able to upgrade the building to the next level. Stars are earned by playing match-3 levels.
Upgrade Building – You need to upgrade your buildings to get more valuable chips and earn more resources. You can upgrade the building when you earn 24 stars and reach the required XP level. You should have enough resources to upgrade the building. Upgrading takes time but you can speed it up using your crystals.
Note: You can't play levels in the building which is being upgraded.
Match-3 Levels – These are all available and locked match-3 levels. Play a new level to unlock another one.
Level Reward & Level Price – You get XP points for completing match-3 levels. However, to play a level you need to have energy.
Collection Item – The levels that hide collection items have an image on them. But you may need to play the level with the collection item several times to get it.
Level Mode – Show which of the modes is active at the moment. You need to complete the level several times to switch its mode.
Stars for Level – You need the stars for upgrading the buildings. You can get three stars for each level. The more points you score on a level, the faster you earn stars. You may need to play the level several times to score enough points for a star.
Level info – Shows the information about the chips, items and chargers you can find in this building.
When you upgrade the building you can reach maximum level of the building and exchange the stars you earn on match-3 levels for the crystals.