On the taskbar, select Microsoft Store to open it.
If you don't see Microsoft Store on the taskbar, it might have been unpinned. Here's how to find it: In the search box on the taskbar, enter Microsoft Store, then select it from the list.

After you've opened Microsoft Store, select the account menu (three dots) > Downloads and updates > Get updates.
Or you can turn on automatic updates:
Select the Start screen, then select Microsoft Store.

In Microsoft Store at the upper right, select the account menu (the three dots) and then select Settings.

Under App updates, set Update apps automatically to On.
Or you can update the game via its page in Microsoft store:
Open Microsoft store.

Use search to find the Cradle of Empires page.

Click on 3 dots next to the Play button.

Click on Update in the dropdown menu.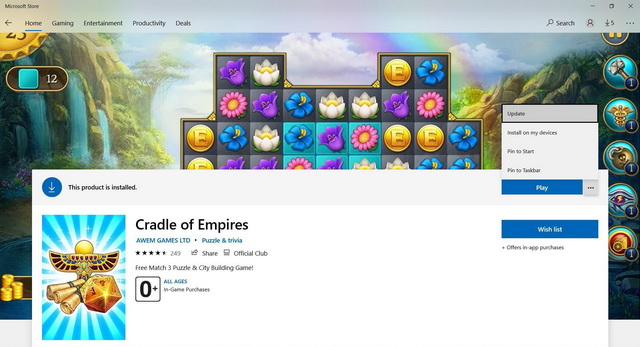 If you can't update the game, please try these potential solutions. You can try them one by one - any of them might help:
Make sure you are not running out of free space on your hard drive.
Make sure your Internet connection is enabled and you have a stable signal.
Make sure the time on your device is set automatically.
Click on the

Start Button

to open the

Start Menu

.

Here open Settings > Time & Language.

Now in the left pane, select Date & Time.

In the right pane toggle the sliders to the On position to set time and time zone automatically.
Close the game and open it again.