If you have available updates for your apps, a badge will be displayed next to the App Store.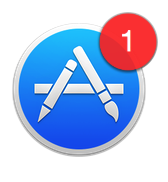 1. Run the App Store app on your device and go to the Updates tab.
2. Find Cradle of Empires on the list of apps and tap the Update button next to it or allow all apps to update (you may have multiple updates available for other apps).
NOTE: Please read the update notes for each app before updating.
3. Please wait until the update has been downloaded.



If you can't update the game, please try these potential solutions. You can try them one by one - any of them might help:
1. Check how much free space you have on your device:
Settings > General > About > Available
Cradle of Empires requires about 1 GB of free space to be updated.
2. Make sure your Internet connection is enabled and you have a stable signal (for example, you are not far from your router if you are using Wi-Fi).
3. Make sure the time on your device is set automatically.
Settings > General > Date & Time > Automatically (Enable this option and restart your device).
4. Turn your Internet connection off and then on again. Restart your device.
5. Try updating the game from its page rather than from the Updates list in the App Store app.
Here is the link: https://itunes.apple.com/app/cradle-of-empires/id738480930?mt=8
6. Please check whether you have any other apps that are updating or have pending updates. Sometimes there may be apps with pending updates, and this can interfere with the update process on your device.
7. Reset your Network Settings.
Settings > General > Reset > Reset Network Settings.
This also resets the Wi-Fi networks and passwords, cellular settings, and VPN and APN settings that you were previously using.